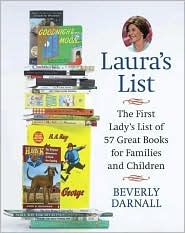 Laura's List
: The First Lady's List of 57 Great Books for Families and Children
by Beverly Darnall
NEW FROM BN.COM
Applicable additional discounts will be displayed at checkout.


This item is currently out of stock.
Product Details
Pub. Date: May 2006
Publisher:Penguin Group (USA) Incorporated
Format: Paperback, 256pp
Synopsis
Laura's List presents the First Lady's published list of recommended books, and builds on her public commitment to books and learning. Parents need basic tools to give their children opportunities to grow, and here is an easy-to-understand guide to great reading for kids-from a highly visible source, Laura Bush.
Mrs. Bush's own background and dedication to reading gives rise to this collection and can inspire others to take up her passion for reading as a means to expanding a child's world.
Simple and powerful in conception, Laura's List discusses each book that our First Lady has publicly recommended, providing summaries and excerpts. It examines the values taught by each selection, and offers a reader's guide, listing prevalent themes and questions to ask after reading.
Also Included are:
- a short biography of the First Lady;
- appendices of themes found in each book; and
- Laura Bush's reading recommendations for adults.
Publishers Weekly
Beverly Darnall builds on First Lady Laura Bush's recommended reading list for families and children (found on www.whitehouse.gov/firstlady.com) for the handbook Laura's List: The First Lady's List of 57 Great Books for Families and Children. For each book listed, Darnall shows the cover, page length, estimated reading time and recommended ages, then gives a brief synopsis, and includes a "reader's guide" to aid parents or caregivers. Copyright 2006 Reed Business Information.
More Reviews and Recommendations
Biography
Beverly Darnall has produced live tours with orchestra for artists Amy Grant, Vince Gill, and Michael W. Smith; created Christmas DVDs for commercial sale; and written songs recorded by Eric Clapton and others. She is the executive director of Chartwell Literary Group, a Nashville-based company that creates, completes, and helps to facilitate book projects for political figures and nationally known authors.