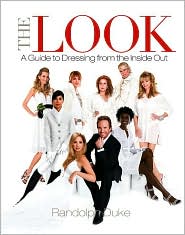 The Look
: Dressing from the inside Out
by Randolph Duke
NEW FROM BN.COM
Applicable additional discounts will be displayed at checkout.


This item is currently out of stock.
(Hardcover)
Pub. Date: October 2006
192pp
Product Details
Pub. Date: October 2006
Publisher:Crown Publishing Group
Format: Hardcover, 192pp
Synopsis
Authentic personal style comes from understanding our bodies, recognizing the demands of our particular lifestyle, mining our experiences, and finding what we really like. —Randolph Duke

Randolph Duke's The Look is a guide to personal style unlike any other. Duke knows high fashion—he has dressed Hollywood A-listers for the red carpet for years—but more important, he understands that putting together a truly fabulous look has everything to do with the woman who's wearing it. Every woman already knows what she does and doesn't like, so The Look wastes no time prescribing one-size-fits-all fashion solutions. Instead, it helps women make today's sometimes-intimidating array of options work cleverly and beautifully for them.

It all starts with body type. Once you've identified your shape from five broad categories, you'll learn to choose clothing that maximizes your positive features and downplays less desirable ones. Then, you can shop for flattering outfits that fit your lifestyle, whether you're a fan of bohemian or preppy, urban chic or country living. The Look also teaches you to mine your own closet (and your friends', too!) for pieces that can be refreshed or repurposed for a whole new look.

Great style is more about a state of mind than it is about a designer wardrobe or a fat bank account. Learning to respect your body and your own taste is a critical part of Duke's philosophy. Exercises throughout the book help you identify what inspires you as you update your look and feel ever more gorgeous in your own skin. Stunning photographs of real, stylish women, fromlinear-figured supermodel Cheryl Tiegs to hourglassy fashion writer Merle Ginsberg, will encourage you to mix up and play with fashion to send your own message.

With expert tips on everything from making occasion-appropriate accessories choices and matching makeup to your ensemble to spicing up your outfit with personality pieces and stocking up on essentials for work, play, and evenings out, The Look gives you all the tools you need to let your personal style shine through.
Biography
Randolph Duke has designed swimwear for Anne Cole and Gottex, served as design director for Henri Bendel, revived the iconic Halston label, and created an eponymous couture collection that has been worn by Angelina Jolie, Barbra Streisand, Jennifer Lopez, and many other celebrities. His multimillion-dollar clothing and accessory line, The Look, is a favorite on the Home Shopping Network, where he appears regularly. Duke also makes frequent appearances on The Oprah Winfrey Show, Good Morning America, Entertainment Tonight, The View, Extra, and Access Hollywood. He lives in Los Angeles.