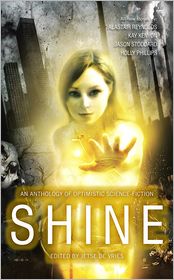 Shine
: An Anthology of Optimistic SF
by Jetse de Vries
(Mass Market Paperback)
Pub. Date: March 2010
464pp
Sales Rank: 1,018,276
Product Details
Pub. Date: March 2010
Publisher:Rebellion
Format: Mass Market Paperback, 464pp
Sales Rank: 1,018,276
The Barnes & Noble Review
One of the best anthologies of recent vintage is Jetse de Vries's Shine. Its virtues are easy to enumerate. It offers a clear-eyed theme and unique remit: optimistic, near-future SF. It features a wide range of voices and styles. Its editor is young, knowledgeable, energetic, and hip (the anthology was assembled with heavy reliance on social media sites). On all counts, it's a rousing success, the very model of a modern project, and points the way toward a healthy future for SF short stories. All that remains is for the book to rack up some deservedly healthy sales.
Read the Full Review
Synopsis
Some of the world's most talented SF writers collected to throw light on a brighter future.
Shine: a collection of gems that throw light on a brighter future. Some of the world's most talented SF writers (including Alastair Reynolds, Kay Keyon and Jason Stoddard) show how things can change for the better. From gritty polyannas to workable futures, from hard-fought progress to a better tomorrow; heart-warming and mind-expanding stories that will (re-) awaken the optimist in you!
More Reviews and Recommendations
Biography
Jetse de Vries has been writing SF since 1999 and had his first story published in 2003. He's been part of the editorial team for renowned SF magazine. Shine is his first anthology.
Customer Reviews
The girlby Anonymous
Reader Rating:
See Detailed Ratings
May 09, 2015: Froze. She started wriggling, trying to move away from him. She managed to reach the trees, but the same guy that had pushed her in shoved her back towards him.