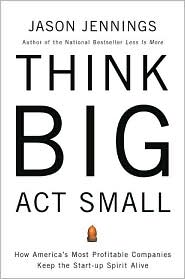 Think Big, Act Small
: How America's Best Performing Companies Keep the Start-up Spirit Alive
by Jason Jennings
NEW FROM BN.COM
Applicable additional discounts will be displayed at checkout.


This item is currently out of stock.
Product Details
Pub. Date: May 2005
Publisher:Penguin Group (USA) Incorporated
Format: Hardcover, 288pp
Synopsis
Is it possible for a company to grow its revenues and profits by 10 percent or more for at least ten consecutive years, not counting acquisitions? That's an incredibly high bar for growth and profitability, one that 99.99 percent of American companies can't meet—including the famous ones that routinely land on magazine covers.
Management expert Jason Jennings screened 100,000 companies to identify nine little- known firms that have delivered stellar performance for a full decade or more, despite the ups and downs of the economy. And, as he reveals in his new book, these superstars have a lot in common despite their wide range of industries, which includes software, food services, medical supplies, and sporting goods.
It turns out that the best long-term performers all combine the strengths of a big organization with the hunger of a start-up. They build excellent relationships with their customers, suppliers, workers, and shareholders. They groom future leaders at all levels. They balance their short-term goals with their long-term visions. And they teach their managers to get their hands dirty.
Jennings did extensive interviews at his nine featured companies to find out exactly how they consistently increase revenue and profits without using manipulation or gimmickry. He reveals their unique approach to leadership and shows how any company, no matter what size or industry, can benefit from following their examples.
Think Big, Act Small may be the most powerful management book since Good to Great and Execution.
More Reviews and Recommendations
Biography
Jason Jennings has spent more than twenty years teaching businesspeople how to build great organizations.  He gives more than sixty keynote speeches every year and is the author of two previous business bestsellers: Less Is More and It's Not the Big That Eat the Small, It's the Fast that Eat the Slow.  He lives near San Francisco.
Customer Reviews
Customer Rating:
Ratings: 4

Reviews: 2
Stunningly Useful for Growing Businessesby Anonymous
Reader Rating:
See Detailed Ratings
January 23, 2006: We recommend this book to all companies dealing with growth. If your business is content with staying small, skip it. Read this book if you are in a growing business or in one that lost its way while it expanded. The final quiz section, where author Jason Jennings walks you through a series of exercises to identify where your business falls in his rubric, is not so impressive. Skim it. Everything else in the book is stunningly useful. Jennings and his staff did a lot of research, including both statistical analysis and first-person interviews. They also reflected seriously on the sorts of businesses they should hold up as models for others to follow. These model businesses operate in fields ranging from fast food (SONIC) to sports outfitting (Cabela?s). Some of these enterprises - such as Strayer University, the higher education representative - initially seem too specialized to provide generalizable lessons, but Jennings succeeds in making them relevant. The result is a book that is entertaining and convincing, if not always easy to follow. After all, Jennings wants you to become proficient at business fundamentals, an asset which is, as he notes, both rare and difficult.
A 'must read' for business leadersby Anonymous
Reader Rating:
See Detailed Ratings
June 08, 2005: There is no bigger challenge for big companies than getting too big to serve their customers. Read this at your own risk: Jennings has loaded this one with explicit ideas that get your company thinking big and acting small.