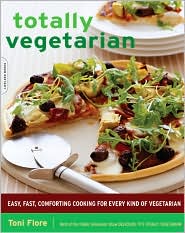 Totally Vegetarian
: Easy, Fast, Comforting Cooking for Every Kind of Vegetarian
by Toni Fiore
(Paperback - First Trade Paper Edition)
Pub. Date: September 2009
272pp
Product Details
Pub. Date: September 2009
Publisher:Da Capo Press
Format: Paperback, 272pp
Synopsis
The health benefits of vegetarianism are well known, but, to many, the art of easily preparing great vegetarian food remains a mystery. With her public television cooking show, Totally Vegetarian, now in its fourth season, Toni Fiore has rapidly become one of America's most trusted guides to fast and flavorful vegetarian meals.
In Totally Vegetarian, Fiore presents 200 recipes that emphasize familiar and readily available ingredients. She is particularly gifted at formulating great-tasting adaptations of popular classics—dishes like tempeh fajitas, veggie potstickers, eggplant "meatballs," polenta con fungi porcini, potato sage pizza, easy spicy tofu rollup—that can be prepared in as few as five minutes. Whether you're cooking for a vegan or a flexitarian, everyone aspiring to eat less meat will savor this totally vegetarian food.
Publishers Weekly
This all-purpose vegetarian cookbook from the host of the PBS series Delicious TV's Totally Vegetarian offers about 200 accessible recipes-from appetizers (Fried Polenta Squares; Roasted Eggplant Caviar) to "sweet finishes" (Maple-Baked Pears; Nutty Shortbread Cookies; Banana-Chocolate Chip Cake). Fiore's reassuring voice makes even the (somewhat) complicated dishes seem doable; lots of variety in the ingredients and flavors make the book a handy resource for vegetarians in need of daily ideas. Some of those ideas fall into the obvious: of course there are recipes for Lentil Stew and Seared Tofu, and a few too many rely on mock meat and fish products. But there are plenty of innovative dishes along the lines of Black-Eyed Pea and Arugula Salad with Honey Vinaigrette, and Rosemary-Roasted Winter Vegetables for anyone wanting to stay interested in meat-free cuisine-as well as helpful adaptations to inspire vegans, too. (July)
Copyright © Reed Business Information, a division of Reed Elsevier Inc. All rights reserved.
More Reviews and Recommendations
Biography
Toni Fiore is the host of public television's vegetarian cooking show Delicious TV's Totally Vegetarian. She lives in Portland, Maine.
Customer Reviews
Great unfussy book for true vegetarians & vegans.by Anonymous
Reader Rating:
See Detailed Ratings
August 08, 2009: At last! A book that really addresses the needs & stomach of a hungry vegetarian with a big appetite! It's not just about leaving out the meat & serving a plate of veggies! It's a wonderful companion book to the PBS cooking show. Lots of useful but easy to use information & recipes on a variety of vegetarian products like seitan, tempeh & coconut oil. I would highly recommend it to anyone looking for easy to make real vegetarian and /or vegan healthy meals.
Great gift for vegetariansby Ellie44EL
Reader Rating:
See Detailed Ratings
April 17, 2010: I purchased this book for a gift. My friend is a vegetarian and I watch Delicious TV with Toni Fiore and her cookbook is just as easy to follow as her TV show.