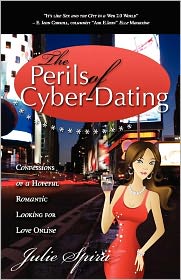 The Perils of Cyber-Dating
: Confessions of a Hopeful Romantic Looking for Love Online
by Julie Spira
(Paperback)
Pub. Date: February 2009
180pp
Product Details
Pub. Date: February 2009
Publisher:Morgan James Pub
Format: Paperback, 180pp
Synopsis
This romantic tell-all memoir spanning over 250 online dates, is filled with heartfelt, witty, and hilarious stories. Julie Spira, a pioneer in the Internet industry, became the first on her block to post an online dating profile. You'll follow her journey as she skillfully navigates the web, hoping to replace what she once thought was the love of her life with a new Internet mate.
Dane Robert Swanson - Santa Monica Daily Press
In her accounting she lets us share in her dates with The Architect, the Neurologist, and the Plastic Surgeon. In between there was the Art Dealer, the Boy Next Door, The Investment Banker, the Drummer Boy. That is just to name a few.

She also gives us some rules of "Netiquette" we should follow if we are inclined to use the Internet for our dating pool. "We are living in the information at your fingertips mode as the Internet has become part of our daily lives, and we can find out more than we probably want to know."

She therefore advises you don't "Google" your date before the first date. One of her dates did and it was a disaster. She found out more about herself than she knew was out there. Also don't discuss body parts on the first encounter. She had one person she dated who gave her the details of his colonoscopy between the entrée and the dessert. When it comes to your profile there should be a cut off rule of five to 10 years on your age and five to 10 pounds on your weight.

Not all cyber-dates were disasters.

This book is a must for this generation of singles, both male and female, who are into cyber-dating. It is possible to find someone if you know the rules.
More Reviews and Recommendations
Biography
Julie Spira is an author, entrepreneur, radio show host, and super-successful cyber-dater. Spira served as a top executive at several leading-edge Internet and communications companies; and today, as a cyber-dating expert, she shares her stories to empower singles on the Internet dating scene. She is a gifted mentor and sits on the board of several charitable organizations in Los Angeles. Visit her at CyberDatingExpert.com.
Customer Reviews
Customer Rating:
Ratings: 5

Reviews: 4
For every adult (and not-so-adult) person dating!by KC_Lee
Reader Rating:
See Detailed Ratings
June 13, 2009: I read Ms. Spira's book and really enjoyed it. And believe me, although I am an avid reader I am not a "self-help reader kind of guy (not that I couldn't benefit from such things)." I picked it up because I thought it was going to be a "good yarn", a series of tidbits, vignettes and advice that would be fun. And it was fun, but it was different than what I expected. I thought it was going to have more of a "pollyanna" tone about it but, no - she "put it all out there", the good news and the bad news about internet dating, I must say. It is also somewhat of a commentary about adult dating, in general, "these days". I applaud her optimism, I must say. Through it all she was having fun, albeit punctuated with things that were not easy - misrepresentation, for example, by others. I hope she continue to have success: with this book, her next book, life, love, and in selecting (continuing to select!) cute little dresses! I bet if you read this book you'll pass it along to someone who you think will enjoy it. I'm still smiling about the book as I type this. Lee
I found this book at a yard sale for 10 cents and thatby Anonymous
Reader Rating:
See Detailed Ratings
February 24, 2014: I found this book at a yard sale for 10 cents and that is about all it was worth. Reading about a lady who has failed with loads of men on dates is of no interest to anyone yet she says she is an expert in the dating world.. its comical...