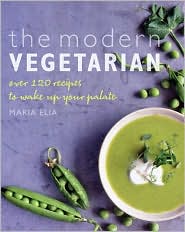 The Modern Vegetarian
: Over 120 Recipes to Wake Up Your Palate
by Maria Elia

Want to reserve & pick up at your local store?
(Hardcover)
Pub. Date: April 2009
160pp
Product Details
Pub. Date: April 2009
Publisher:Kyle Books
Format: Hardcover, 160pp
Synopsis
Over 120 sumptuous recipes full of sensational flavors, colors, and textures that will stop you in your tracks. With chapters divided into Stylish Starters, Sensational Mains, Sofa Suppers, Sassy Sides, Simple Staples and Stunningly Sweet, this is truly a vegetarian adventure.