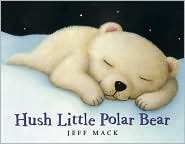 Hush Little Polar Bear by Jeff Mack
NEW FROM BN.COM

Want to reserve & pick up at your local store?
(Hardcover - First Edition)
Age Range: 3 to 6
Pub. Date: October 2008
40pp
Sales Rank: 149,959
Note: Kids' Club Eligible. See More Details.
Product Details
Pub. Date: October 2008
Publisher:Roaring Brook Press
Format: Hardcover, 40pp
Sales Rank: 149,959
Age Range: 3 to 6
Synopsis
AN IMPOSSIBLY CUDDLY BABY POLAR BEAR
travels from one magical place to another. "Hush baby polar bear. Sleep in the snow, and dream of the places where sleeping bears go." Readers follow a baby snow-white plush polar bear that has been brought to life by his owner's imagination from the back of a whale with the sea spray surrounding, to a land of tall grass where butterflies float by up into the sky itself…and happily right back through the window into the loving arms of his owner asleep in bed. Mack's lush and lovable illustrations suit the lulling, rhyming text to make a perfect bedtime book sure to leave readers and listeners with warm and fuzzy feelings read after read.
Publishers Weekly
In his first solo outing, Mack (illustrator of the Bunnicula series) sends an eager-looking polar bear on a series of dreamtime adventures: "Swim through a waterfall./ Splash in a stream./ Paddle past rainbows/ that glisten and gleam." Big, rounded shapes and pastel-tinted spreads encourage calm, while rhythmic verses describe action. The polar bear looks like a real cub; the ending reveals him (her) as a stuffed animal snuggled in the arms of the girl who, presumably, is the narrator. She's right behind the polar bear in every spread, watching over him; in Mack's cheerful, fuzzy acrylic paintings, they travel across the ocean, through a rain forest, a desert, and up into the sky before ending safely in bed. "Then look right beside you,/ and that's where I'll be," she promises the bear. Giving the child character the speaking rather than the listening part neatly reverses lullaby convention. Ages 2-6. (Nov.)
Copyright © Reed Business Information, a division of Reed Elsevier Inc. All rights reserved.
More Reviews and Recommendations
Biography
JEFF MACK has illustrated a number of picture books, including HURRY! HURRY! and RUB-A-DUB SUB and five of James Howe's popular Bunnicula books. Hush Little Polar Bear is the first picture book that he has both written and illustrated. He lives in Easthampton, Massachusetts.
Customer Reviews
By far my granddaughters favorite book, especially at bedtime. ?by Anonymous
Reader Rating:
See Detailed Ratings
July 22, 2014: By far my granddaughters favorite book, especially at bedtime. The illustrations are beautiful and we find new things every time we read the book. I look forward to more books by this author.
Too cute. Checked this out from the library for my kids in classby Sleepy79
Reader Rating:
See Detailed Ratings
December 22, 2012: Too cute. Checked this out from the library for my kids in class and I fell in love with it. I will definitely have to get this for myself once I have to return it. Only thing that would make it better would be if it came with a stuffed Polar Bear. :)