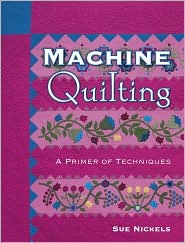 Machine Quilting
: A Primer Of Techniques
by Sue Nickels
(Paperback - Illustrated)
Pub. Date: September 2003
112pp
Sales Rank: 1,347,565
Product Details
Pub. Date: September 2003
Publisher:Collector Books
Format: Paperback, 112pp
Sales Rank: 1,347,565
Synopsis
Getting ready for your first machine quilt project could not be easier. This must-have book will provide everything you need to know to start your journey. This reliable resource covers all aspects of beginning machine quilting. The author walks the reader through how to begin the process, no matter what kind of sewing machine you may own. In this book, you will find full definitions of all the supplies, complete explanations of techniques, help with quilting decisions, information on marking quilt tops and basting, tips on handling the bulk of quilts, and finishing options. Four practice projects will get you started.
Sue Nickel s Machine Quilting focuses on beginning machine quilting, starting with basic supplies and machines and continuing to discuss various introductory machine-quilting techniques, and how to trace and practice patterns from the book. Three projects include full-sized quilting patterns to provide practice and tips for new users. A recommended pick, offering something different to avid quilters. -Midwest Book Review, Library Bookwatch Newsletter, March 2004
More Reviews and Recommendations
Biography
Sue Nickels is an internationally famous quilt instructor and award-winning quilter. She lives in Ann Arbor, Michigan.
Customer Reviews
Machine quilting on your sewing machineby Anonymous
Reader Rating:
See Detailed Ratings
January 26, 2010: While taking a machine quilting class at the local quilt shop, the instructor informed the students of this book which has been a wonderful guide for her over the years. She found it to be the most comprehensive and doable book on the market for machine quilting on a short-arm sewing machine. I would have to agree. Plus, it's by a Michigan resident...nothing better.
Reader Rating:
See Detailed Ratings
August 24, 2011: This is an excellent investment of an at-home study course for beginning quilters. The introduction is an interesting brief essay on the history of machine quilting, then begin the lessons. Instructions are easy to understand with colorful examples to imitate. The writing style is conversational, gradually guiding the student through the steps and practice required to produce quality quilting. I love this book!