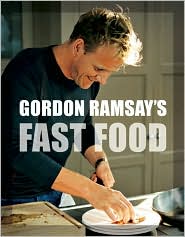 (Hardcover)
Pub. Date: March 2008
256pp
Product Details
Pub. Date: March 2008
Publisher:Key Porter Books
Format: Hardcover, 256pp
Synopsis
Throw out the frozen dinners and takeout menus. Who better to show readers how to cook real food, real fast and make it really tasty than Gordon Ramsey, three-star chef and TV celebrity? Gordon Ramsay's Fast Food includes over 100 delicious recipes that are super-fast and easy to prepare. The book is divided into short sections: 15 feature fast recipes classified by group, such as starters, soups, fish, meat, pasta, working lunches, and desserts, and 15 more sections contain great menus for everyday and entertaining. Many of the dishes can be prepared and cooked in as little as 15 minutes, and none take longer than half an hour. The menus provided take 30-45 minutes from start to finish, each with a timing plan. There's also advice on essential ingredients to keep in stock for speedy cooking, plus lots of great ideas for shortcuts.
Customer Reviews
Customer Rating:
Ratings: 17

Reviews: 3
Really a good cookbookby Jokar
Reader Rating:
See Detailed Ratings
April 29, 2009: For years we have been a follower of Gordon Ramsey. This cookbook is really easy to use and has a great number of very easy and interesting recipies. Good for those nights when you would like a good meal prepared in a short amount of time.
Excellent Bookby Anonymous
Reader Rating:
See Detailed Ratings
July 01, 2009: Great recipes, easy to follow, excellent illustrations.