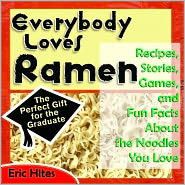 Everybody Loves Ramen
: Recipes, Stories, Games, & Fun Facts About the Noodles You Love
by Eric Hites
(Paperback)
Pub. Date: March 2003
144pp
Product Details
Pub. Date: March 2003
Publisher:Andrews McMeel Publishing
Format: Paperback, 144pp
Synopsis
As a college student, Eric Hites learned just how far he could stretch a dollar by combining a package of ramen noodles with some odd ingredients out of his nearly bare kitchen cupboards and a little imagination. Living on a tight budget, Hites and his friends spent many night of fun, laughter, and experimentation figuring out how they could concoct original, cheap yet tasty meals from the only food they could truly afford: ramen noodles.
It later occurred to Hites that he should collect and compile the recipes he and his friends had had so much fun inventing. Everybody Loves Ramen is filled with 50 innovative recipes-from Stroganoff Ramen Style to Easy Cheezy Ramen to Elvis's Fav' Gravy Ramen-as well as "ramen factoids," funny stories, games, and puzzles all related to our favorite low-cost snack food.
Everybody Loves Ramen will make the perfect gift for high school graduate, college student, single friend living on tight budget, or anyone who, like Hites, remembers the days when a package of ramen was haute cuisine. Told in a humorous style, Everybody Loves Ramen is both a cookbook and a book of fun.
Biography
Eric Hites lives in Rockville, Indiana, where he owns a DJ service.
Customer Reviews
Everybody Loves Ramen: Recipes, Stories, Games, & Fun Facts About the Noodles You Loveby Anonymous
Reader Rating:
See Detailed Ratings
April 17, 2003: This book satified my hunger for different ways to prepare this mainstay of the college pantry. The humor is very evident and the games challenging. I recommend this as a great gift for the college bound or even the teen still at home who enjoys these noodles as an after school snack.