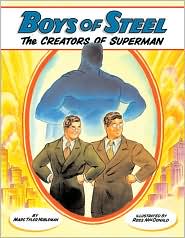 NEW FROM BN.COM

Want to reserve & pick up at your local store?
(Hardcover)
Pub. Date: July 2008
40pp
Sales Rank: 973,637
Note: Kids' Club Eligible. See More Details.
Product Details
Synopsis
JERRY SIEGEL AND Joe Shuster, two misfit teens in Depression-era Cleveland, were more like Clark Kent—meek, mild, and myopic—than his secret identity, Superman. Both boys escaped into the worlds of science fiction and pulp magazine adventure tales. Jerry wrote stories, and Joe illustrated them. In 1934, they created a superhero who was everything they were not. It was four more years before they convinced a publisher to take a chance on their Man of Steel in a new format—the comic book. The author includes a provocative afterword about Jerry and Joe's long struggle with DC Comics when they realized they had made a mistake in selling all rights to Superman for a mere $130!
Marc Tyler Nobleman's text captures the excitement of Jerry and Joe's triumph, and the energetic illustrations by Ross MacDonald, the author-artist of Another Perfect Day, are a perfect complement to the time, the place, and the two young visionaries.
Publishers Weekly
Catering to comics junkies, this vibrant and well-researched picture book biography introduces the youthful inventors of Superman, who this year celebrates his 70th anniversary. Writer Jerry Siegel and illustrator Joe Shuster are mild-mannered everymen whose reflective glasses conceal their eyes-and their potential. In a crowded high school hallway, Jerry wishes he could be with his "friends," and a turn of the page reveals Tarzan, Flash Gordon and Buck Rogers. Joe, "lousy at sports and mousy around girls," draws sci-fi heroes with a passion. In 1934, when both are 20, Jerry dreams up the Superman concept and Joe draws prototypes labeled "S" for " 'super.' And for 'Siegel' and 'Shuster.' " In June 1938, their creation launches in Action Comics. Nobleman details this achievement with a zest amplified by MacDonald's (Another Perfect Day) punchy illustrations, done in a classic litho palette of brassy gold, antique blue and fireplug red. MacDonald's Depression-era vignettes picture Siegel pondering his superhero's powers and the friends casting a single, caped shadow. A cautionary afterword chronicles their protracted financial struggles with DC Comics-when Siegel and Shuster sold their first Superman story, they also sold all rights to the character, for $130. Ages 10-up. (July)
Copyright © Reed Business Information, a division of Reed Elsevier Inc. All rights reserved.
More Reviews and Recommendations
Biography
MARC TYLER NOBLEMAN grew up thinking he'd become a superhero because his last name already sounded like one. Instead he turned into a writer and cartoonist and a comic book maven. In researching Boys of Steel, he dug up details about the creators of Superman that have not been in a book before.
Customer Reviews
Inspiring story for artistic kids!by Anonymous
Reader Rating:
See Detailed Ratings
August 23, 2008: 'Boys of Steel' is filled with delightful, colorful illustrations, and an easy-to-read text, making it perfect for kids age 4 and up. It tells the little known story of the two 'geeky' teenaged boys from Cleveland--Jerry Siegel and Joe Shuster--who were ignored and picked on by their peers at school,and who channeled their frustrations into creating 'scienti-fiction' stories. Looking to popular films and magazines of the time (Depression Era, 1930's), they drew inspiration from Tarzan, Flash Gordon and Doc Savage--and created the world's first comic book super-hero: SUPERMAN.