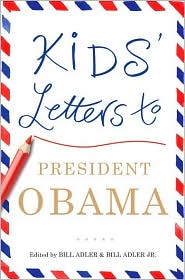 Kids' Letters to President Obama by Bill Adler (Editor), Bill Adler Jr. (Editor)
NEW FROM BN.COM

These items ship to U.S, APO/FPO and U.S. Protectorate addresses only.
Works with the eReader you already own Learn More
Get Free Sample
Start reading a sample of this eBook for free! Learn More

Also works with nook

Welcome to the world's most advanced eBook reader. Get your favorite books, newspapers and magazines, plus exclusive reads from Barnes & Noble all delivered via fast and free wireless.

(NOOK Book (eBook))Learn more
Pub. Date: April 2009
Available for download via Wi-Fi and 3G
160pp
Product Browse duration in Minutes: 60
Product Details
Pub. Date: April 2009
Publisher:Random House Publishing Group
Sold By: Random House
Format: NOOK Book (eBook), 160pp
Synopsis
Barack Obama has inspired millions of people around the world–and an unwavering chorus of those admirers are children. This delightfully charming collection includes more than two hundred letters that kids have written to President Obama. Some of these messages are humorous, some are heartwarming, all of them are sincere–making this volume the perfect gift for any occasion.

The children ask questions: "Why did you want to be president?" "Do you think you could pass a law making chocolate a vegetable in our country?" They give suggestions: "I think you should fix things in the world to be more fair." They offer advice: "You should bring a yo-yo to the White House." They share hopes: "I want you to care about schools. I am in kindergarten." They even volunteer expertise: "I will help you learn to bowl because you don't know how to bowl."

Whether discussing such weighty issues as the "econimical" crisis, the environment, and alternative energy or simply giving shout-outs to First Daughters Sasha and Malia, these kid correspondents express, as only children can, pure optimism, avid curiosity, and unadulterated elation about this historic moment. Complete with original illustrations by the letter writers themselves, and wonderful reproductions of some of the kids' handwritten messages, this marvelous book–a true message of hope for our time–is a keepsake for the whole family to enjoy.


From the Hardcover edition.
Children's Literature
Adler's father and son bring us a funny, touching, insightful collection of 200 letters from kids to President Obama. These letters come from all over the United States and offer hope, advice and good wishes. Some are even reproduced in the original handwriting, quirky punctuation and spelling. Sydney, six, says "Please remember to be peaceful" and Katelynn, nine, suggests the Obama's get a soccer-playing Border Collie like hers. Olga, twelve, has pressing concerns. She praises the President for giving up smoking and asks him to "fix the immigration problem," which forces her and her mother to live in different countries. Christian, ten, sums up the mood of many: "Did you know my mom cried when you won? I wrote my name on my head and went to bed so you would have good luck…. This is one of the biggest elections ever. I think that this is history." Reviewer: Mary Quattlebaum
More Reviews and Recommendations
Biography
Bill Adler is a literary agent and the author of numerous books, including several New York Times bestsellers. He created the Kids' Letters series of books, including Kids' Letters to President Kennedy and Letters from Camp, which have sold more than one million copies. He lives in New York City.

Bill Adler, Jr., is a writer living in Washington, D.C. He is the author of more than twenty books, including Kids' E-mail and Letters from Camp and Outwitting Squirrels, which has sold more than 300,000 copies.


From the Hardcover edition.
Customer Reviews
Customer Rating:
Ratings: 9

Reviews: 8
Agree with libral slanderby Anonymous
Reader Rating:
See Detailed Ratings
July 29, 2012: Excuse my spelling