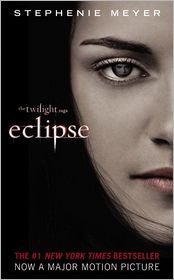 Condition: Very Good
$7.99 List price
$5.99 Online price(Save 25%)
$5.99 Member price
(Mass Market Paperback - Movie tie-in)
Age Range: Young Adult
Pub. Date: May 2010
640pp
Note: Visit our Teens Store.
Product Details
Pub. Date: May 2010
Publisher:Little, Brown Books for Young Readers
Format: Mass Market Paperback, 640pp
Age Range: Young Adult
Synopsis
Readers captivated by Twilight and New Moon will eagerly devour Eclipse, the much anticipated third book in Stephenie Meyer's riveting vampire love saga.
As Seattle is ravaged by a string of mysterious killings and a malicious vampire continues her quest for revenge, Bella once again finds herself surrounded by danger. In the midst of it all, she is forced to choose between her love for Edward and her friendship with Jacob -- knowing that her decision has the potential to ignite the ageless struggle between vampire and werewolf. With her graduation quickly approaching, Bella has one more decision to make: life or death. But which is which?
Publishers Weekly
The legions of readers who are hooked on the romantic struggles of Bella and the vampire Edward will ecstatically devour this third installment of the story begun in Twilight, but it's unlikely to win over any newcomers. Jake, the werewolf met in New Moon, pursues Bella with renewed vigilance. However, when repercussions from an episode in Twilightplace Bella in the mortal danger that series fans have come to expect, Jake and Edward forge an uneasy alliance. The plot patterns have begun to show here, but Meyer's other strengths remain intact. The supernatural elements accentuate the ordinary human dramas of growing up. Jake and Edward's competition for Bella feels particularly authentic, especially in their apparent desire to best each other as much as to win Bella. Once again the author presents teenage love as an almost inhuman force: "[He] would have been my soul mate still," says Bella, "if his claim had not been overshadowed by something stronger, something so strong that it could not exist in a rational world." According to Meyer, the fourth book should tie up at least the Edward story, if not the whole shebang. Ages 12-up. (Aug.)
Copyright 2007 Reed Business Information
More Reviews and Recommendations
Biography
Stephenie Meyer is the author of the #1 bestselling Twilight Saga and The Host. She graduated from Brigham Young University with a degree in English literature, and she lives with her husband and three young sons in Arizona.
Customer Reviews
Customer Rating:
Ratings: 11336

Reviews: 2968