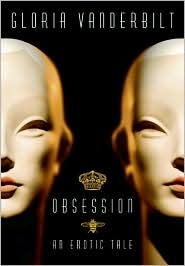 (Hardcover)
Pub. Date: June 2009
160pp
Sales Rank: 1,487,200
Product Details
Pub. Date: June 2009
Publisher:HarperCollins Publishers
Format: Hardcover, 160pp
Sales Rank: 1,487,200
Synopsis
The marriages of desire . . .

From the multitalented and versatile Gloria Vanderbilt comes a passionate, sensual, witty, and puzzling tale of erotic obsession, beauty, and revenge, told in tandem by two women obsessed with the same man—and, ultimately, with each other.
Talbot Bingham is a renowned architectural genius who, with his formidable wife, Priscilla, creates an architectural community. When he dies unexpectedly in the middle of their tenth wedding anniversary celebration, the devastated Priscilla is left keeper of the flame of Talbot's genius. Going through her husband's archives, she comes unexpectedly upon a pile of neatly tied letters, and the shocking secret of her husband's intimate life—a discovery that shatters the foundation of her soul and spirit.
Obsession explores the mysteries of the human heart and the nature of sexuality and obsession, provoking questions about whom we choose to love, and why. The reader is left to decide if the other woman represents another facet of Priscilla, or if Priscilla her-self has invented the other woman who completed the world her husband so recently inhabited?
Publishers Weekly
As narrator of her sexually explicit work of fiction, Vanderbilt draws heavily on her polished, almost aristocratic annunciation. This approach seems fitting, given the story line centered on a fabulously wealthy architect's widow named Priscilla, who discovers her late husband's secret relationship with Bee, a kept woman specially trained in the art of erotic pleasure. The text consists mostly of Priscilla's simultaneously indignant and inquisitive reading of the steamy letters between the principals. Vanderbilt's narration keeps the initial plot elements moving efficiently, but once Priscilla takes the step of pursuing a meeting with Bee, it becomes difficult for listeners to distinguish among the characters. An Ecco hardcover (Reviews, Apr. 20). (July)
More Reviews and Recommendations
Biography
Gloria Vanderbilt is the author of four memoirs and two novels. She contributes to various publications, including the New York Times, Vanity Fair, and Elle, and has received two honorary doctorates of Fine Arts. She lives in New York City.
Customer Reviews
Customer Rating:
Ratings: 27

Reviews: 14
Don't waste your time on this bookby Vanpristo
Reader Rating:
See Detailed Ratings
February 07, 2010: I got the book from the library. Glad I didn't buy it. I thought it was Ms. Vanderbilt's biography. Boy, was I in for a surprise. It is pure smut.