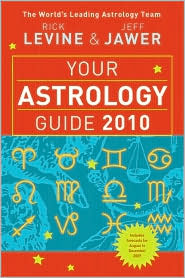 NEW FROM BN.COM
Applicable additional discounts will be displayed at checkout.


This item is currently out of stock.
(Paperback)
Pub. Date: July 2009
448pp
Product Details
Pub. Date: July 2009
Publisher:Sterling Publishing
Format: Paperback, 448pp
Synopsis
Rick Levine and Jeff Jawer—astrology's fastest-rising stars—go beyond mere prediction; they offer a cosmic weather report that explains planetary events and energies in a way that anyone can understand…and use. Their big bestselling guide covers a full 17 months instead of 12, with spreads for each sign from August 2009 to December 2010 featuring a summary and mini calendar for each month. The duo looks closely at the 2010 forecast for all 12 signs, providing an enlightening perspective on every crucial aspect of your world. Every month receives easy-to-follow coverage that makes it simple to keep track of what will unfold during the year.
Customer Reviews
Customer Rating:
Ratings: 6

Reviews: 4
Very Good!by Anonymous
Reader Rating:
See Detailed Ratings
April 26, 2010: I generally like Jawer and Levine's work. Great introductory materials at the beginning of the book and clear logical (sometimes candid) explanations for every day of every sign in 2010!
2010 Reviewby jan_astrology_lover
Reader Rating:
See Detailed Ratings
February 24, 2010: I believe this publication should have more detail and factual content. It seems to be very ordinary reading with no real riveting information. I feel the content needs more thought by these astrologers, before publishing this type of material. Get down to the nuts and bolts, instead of all this esoterical stuff.
Jan