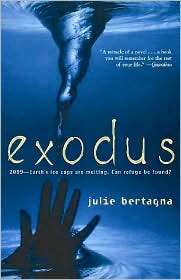 NEW FROM BN.COM

Want to reserve & pick up at your local store?
(Hardcover - First Edition)
Pub. Date: April 2008
352pp
Sales Rank: 793,966
Note: Visit our Teens Store.
Product Details
Synopsis
An internationally acclaimed bestseller, vividly and terrifyingly topical, is finally available to American audiences.
Less than a hundred years from now, the world as we know it no longer exists. Cities have disappeared beneath the sea, technology no longer functions, and human civilization has reverted to a much more primitive state
On an isolated northern island, the people of Wing are trying to hold onto their way of life--even as the sea continues to claim precious acres and threatens to claim their very lives
Only fifteen-year-old Mara has the vision and the will to lead her people in search of a new beginning in this harsh, unfamiliar world.
This compelling and powerful story set in the near future will hit home with teens, especially those who are ever more aware of the increasingly controversial climate crisis we face in our world today.
School Library Journal
Gr 9 Up- In this epic tale of global warming and environmental disaster set at the dawn of the next century, 15-year-old Mara has lived with the realization that the world is drowning. Growing up on Wing, she has watched her North Atlantic island become smaller each year, and people have long ago abandoned technology in their struggles to subsist. After a particularly bad ocean surge, another part of the village is lost. This spurs Mara to convince the villagers that they will have a chance at a new life in the Sky Cities, which she has located on the now-defunct version of the Internet. After a grueling journey, the refugees find themselves locked out of the city by a giant wall. As sickness and disease claim some of her people, Mara decides to find a way into the city to save them. Through the netherworld (under the city), the teen has encounters with the ratbashers (urchins) and the Treenesters. The Treenesters think that Mara is The Face in the Stone that will save them. Ecologically conscious teens will embrace this girl who is destined to save humanity.-June H. Keuhn, Corning East High School, NY
Copyright 2008 Reed Business Information.
More Reviews and Recommendations
Biography
Julie Bertagna started her career as a teacher and freelance feature writer for major Scottish newspapers and has established a reputation as an author of powerful and original fiction for young people. She lives in Glasgow with her husband and daughter. Visit her Web site at www.juliebertagna.com
Customer Reviews
Customer Rating:
Ratings: 15

Reviews: 8
Reviewed by JodiG. for TeensReadToo.comby TeensReadToo
Reader Rating:
See Detailed Ratings
October 28, 2008: What if everything you've heard about global warming is true -- and we haven't done enough to change the course of events?

Mara is a fifteen-year-old girl who lives on the island of Wing. The polar ice caps are melting, flooding most of the earth. What is left of Mara's primitive island is rapidly being claimed by the rising tide. Among the ruins of an abandoned cyberworld Mara meets another, someone who promises her that there is a safe haven in the New World.

Mara convinces the people of her island that their only chance for survival is to sail north, where the sky cities can provide shelter against the rising storms and tides. However, they arrive to find that walls have been built around the city and that they are just a few of the refugees who are gathered around, hoping for entry. Life in the boat camp is a grim existence. Illness, hunger and death have penetrated the lives of Mara's group. Overwhelmed with guilt, Mara sets out to find a way to save her friends.

With a little help, Mara makes her way inside the gates and sets about to infiltrate the New World city of New Mungo. How can one girl face such insurmountable odds and save her people against a formidable adversary? Can she really take on an entire city to save her friends? If only she could find her cyberworld acquaintance, maybe he could help Mara.

EXODUS is a sobering reminder of the future we face if global warming is allowed to continue unchallenged. Julie Bertagna has presented a somber picture of what life may be like in the year 2099. She has balanced desperation with the enduring power of hope. When humans have hope, no challenge seems too difficult to face. The stark subject of the story is balanced with a fluid writing style that keeps you turning the pages and hoping for the best. EXODUS is already an international best seller and is being released to US readers in April 2008.

This is one of those stories that will stay with you forever.